Transportation In Duplin County
Located at the mid-point between New York and Miami, Duplin County is ideally positioned for access to Eastern U.S. markets. And with a well-developed transportation network and utility capacities to meet the demands of industry, we have everything your company needs to take full advantage of a Duplin County location.
---
Highways
Interstate 40 is accessible via six exits across Duplin County and provides easy connections to I-95, I-85, I-77 and I-26. The County is also traversed by a well-maintained network of U.S. and state highways. Typical drive times are:
| | |
| --- | --- |
| Interstate 95: | 30 minutes |
| Wilmington: | 55 minutes |
| Morehead City: | 1.5 hours |
| NC Beaches: | 40 minutes |
| Raleigh/Research Triangle Park: | 1.5 hours |
| Myrtle Beach, SC: | 2 hours |
Two-thirds of the U.S. population is within a day's trucking distance of Duplin County.
---
Seaports
Two deep-water ports — in Wilmington and Morehead City, North Carolina — serve Duplin County shippers. Both ports are within a one-hour drive, and are capable of accommodating large ocean container vessels.
---
Air Service
Duplin County Airport (DPL) near Kenansville is a modern facility that gives private aircraft fast access to eastern U.S. destinations. The airport features a 6,000 ft. lighted runway with instrument landing capabilities, a terminal with conference facilities, corporate hangars and state-of-the-art above ground fueling stations for Jet-A and 100-LL.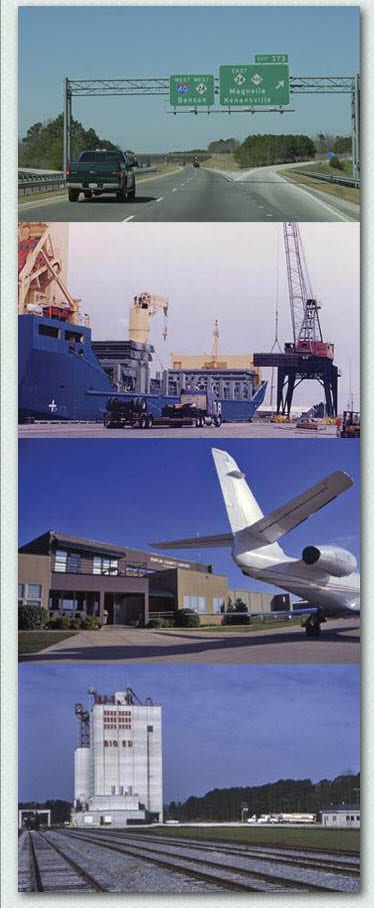 Scheduled airline service is available via Raleigh-Durham International Airport (70 minute drive) and Wilmington International Airport (30 minute drive).
---
Rail Service
CSX Railroad bisects Duplin County.