Training & Education
An Affordable and Productive Work Force
Duplin County is home to nearly 25,000 workers, with a regional work force in excess of 400,000. The County is centrally located among seven major military bases in eastern North Carolina, and the thousands of well-trained personnel discharged annually from these facilities augment the area's labor supply.
North Carolinians have long been known for their strong work ethic, and Duplin County workers are no exception — productivity here is well above the national average.
Wages and worker-related costs, on the other hand, are significantly below national averages. In fact, unemployment insurance and workers' compensation rates are among the lowest in the nation, as is our unionization rate. And our state's pro-business environment help keeps labor-related issues to a minimum.
Duplin County also participates in testing for Career Readiness Certificates (CRC). CRC is a credential that gives employers a snapshot view of skills a potential employee has to offer. Individuals take the WorkKeys assessments in Reading for Information, Locating Information and Applied Math to receive either a bronze, silver or gold certificate. Some Duplin County employers are currently utilizing CRC as a basis for hiring and many more are expected to join. Testing for the CRC is offered at James Sprunt Community College.
---
America's Most Acclaimed Job Training
North Carolina pioneered customized job training for new and expanding businesses more than 40 years ago. Today, this state-sponsored program is considered the best of its kind, and is administered through the 58-campus North Carolina Community College System. Click here for more information on customized training.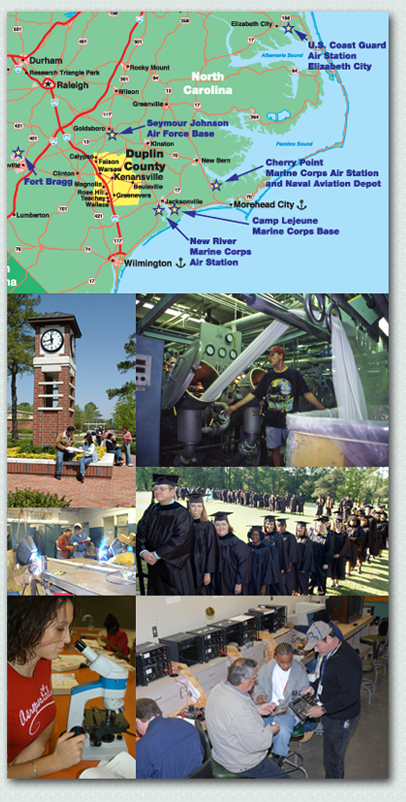 James Sprunt Community College in Kenansville offers a comprehensive array of customized training programs, support services and business resources to Duplin County companies. In most cases, training is free to qualifying businesses, and can be taught on the college campus or at the employer's workplace.
---
Outstanding Public, Private and Higher Education
Public schools in Duplin County are consistently recognized by the state of North Carolina for academic excellence. Two award-winning programs — Tech Prep and JobReady — help prepare high school students for immediate employment in businesses and technical fields. An innovative program in the town of Warsaw has created a "school of engineering" for students at James Kenan High School.
K-12: The Duplin County School System includes twenty area schools from grades K-12 with approximately 9,500 students, and is recognized for its outstanding teachers and strong curricula and academic excellence.
Colleges & Universities: Duplin County is home to James Sprunt Community College and the Univeristy of Mount Olive is only 20 minutes away. In addition, 17 of North Carolina's acclaimed colleges and universities are from 1 to 2 hours away.
---
North Carolina Employment Security Commission
The Employment Security Commission provides Job Service-Job Matching, Unemployment Insurance and Labor Market Information to employers on a non-fee basis. The ESC maintains a statewide computer network, listing your job orders at all Job Service Centers, community colleges, universities, and partner workforce agencies to assist in your recruitment needs. Screening and referral of applicants, clerical testing, on-line Internet based job search, labor market information, and a 100 day probationary period for new employees hired through ESC are all valuable employer services.
Specialized assistance is available in staffing new and expanded business including space to conduct interviews in the local JSC. Technical consultation, employee opinion surveys, job analysis, and assistance in resolving personnel-related concerns such as absenteeism and turnover are available.
Contact Duplin County's local Employment Security Commission at (910) 296-1478 or access NCWorks online for job search.